Vorbiţi româneşte? Czy mówisz po polsku? Walsall has long been a cosmopolitan town, but it's always difficult to settle in to a new place, particularly when English isn't your first language. So in May 2011, we launched a new initiative to reach out to our multi-cultural neighbourhoods.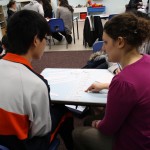 'Learn English with the Bible' is a programme which has been used in several countries. It does exactly what it says on the tin: you learn English, and you learn about the Bible. With the help of easy English notes and a modern translation of the Bible, each student works with a native-speaker tutor. This means the sessions can be geared to each person's level and needs. The course takes you through famous Bible stories and key Bible teachings.
Since we started we've had nearly 30 different students – from Poland, Romania, China, Pakistan and DR Congo. In September, we introduced child-care as some of our students had young children, who now have the opportunity to join in with the language and Bible learning. We've also held a film night and a few outings – great opportunities to get to know each other better!
If you or someone you know would like to join us, we meet every Thursday, 7.30 – 9.00pm at Whitehall Infants' School (Weston Street entrance), Caldmore, Walsall.  There is no charge.
Call James & Hannah on 01922 745 812 or email info@walsallchristadelphians.org.uk